Have you heard of Bubble Football, Bubble Soccer or Zorb Football? This Norwegian invention has been entertaining those who want to try something special beyond traditional football since 2011. As Bubble Football is not only a sport but also an entertainment opportunity, its rules are of course easier compared to its original. If you want to give it a try, it doesn't hurt to look into it a bit to avoid uncertainty. That's why it's useful that you can now learn from our article how to play Bubble Football!
How To Play Bubble Football – What is Bubble Football?
This form of entertainment may still be completely new to you, but it may have already aroused your interest nonetheless and you would love to try it. Imagine Bubble Soccer like plain soccer, with fewer rules and lots and lots of laughter. The essence of the game is that players run after the ball locked inside a huge ball, trying to score a goal. At first, perhaps the question may arise in you of what happens when players hit each other and fall. To put it simply: nothing happens, they just laugh about it. Since the safety of the players inside the balls is aided by shoulder straps and inner handles, it can be declared that Ball Soccer is a completely safe sport!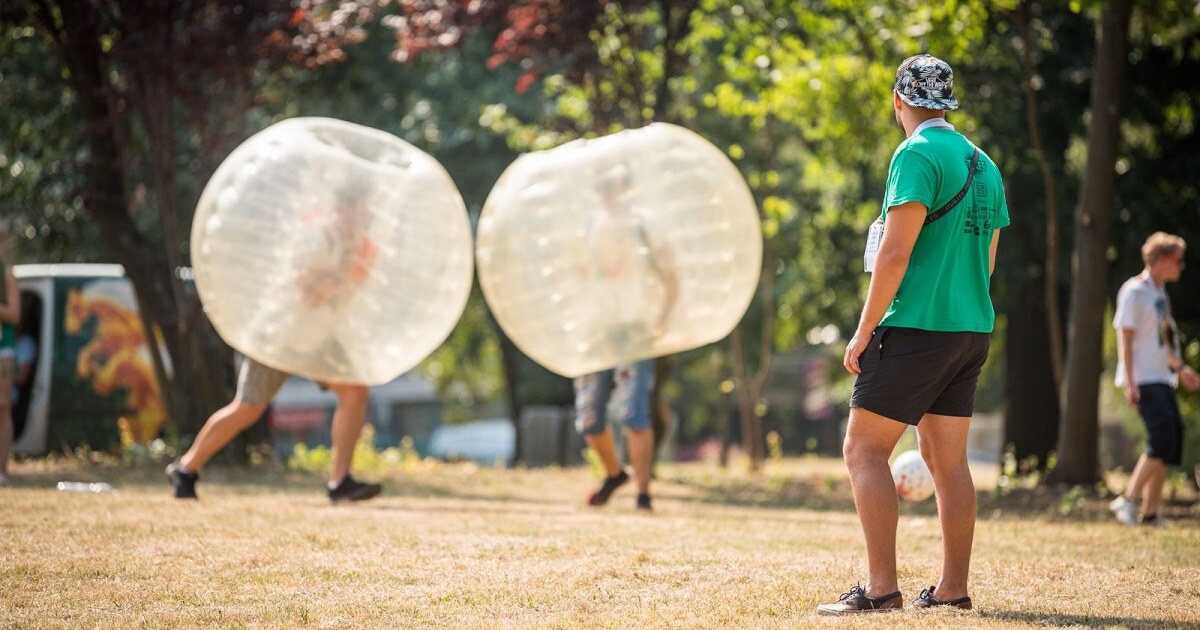 How To Play Bubble Football – Before The Game
Before you want to take part in a Bubble Soccer match, it is a good idea to know that you can take part in the game with a minimum of 6 people. If you are already on the field, you must first divide the players into two teams. Then warm up, which is to keep your muscles from cramping and to be able keep up the pace. In the end, all that's left is to pick up the Bubbles! Make sure that the safety straps are fastened correctly, as they provide complete protection against possible collisions!
How To Play Bubble Football – The Course Of The Game
You have nothing else to do on the field but to have fun! In Bubble Football, there is only one rule: to kick as many goals as possible and to knock your opponent over. Players who fall to the ground during the game must be allowed to get up before their opponent attacks again. This rule must be strictly adhered to as players' feet are vulnerable. While this sport falls into the safe category, of course we provide a referee throughout the playing time!
Now that you've learned how to play Bubble Football, feel free to give it a try! If you want to try an unusual sport, choose from our packages and have fun!
https://bubble-football-budapest.com/wp-content/uploads/2020/05/how-to-play-bubble-football.jpg
630
1200
Nemes Andras
https://bubble-football-budapest.com/wp-content/uploads/2018/11/logotext8transsmall.png
Nemes Andras
2020-06-08 14:21:19
2020-06-08 14:21:19
How To Play Bubble Football?