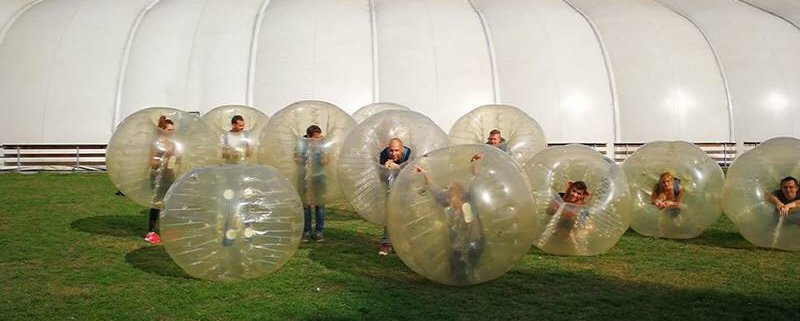 Would you like to learn more about the history of bubble soccer? Being fun and popular activity today, its journey had a very bumpy ride at the beginning.
Bubble soccer, or bubble football as known in many parts of the world, is a Norwegian invention. It was created by Henrik Elvestad and Johan Golden in 2011 when they wanted to give a hilarious twist to traditional football. They never expected to start such a spectacular and funny sport all around the world.  The game was brought to the UK by Lee Moseley, who decided to finance the activity there.
Bubble soccer in the USA
After posting a video from Italy about a bubble ball game that went viral, it reached New Zealand and the United States by 2014. In the USA the game had to face many issues because it was difficult to find available, high-quality equipment that resulted in the failure of many early-adopters. As there were basically no industry standards about what constitutes as a real bumper ball, and insurers were not willing to support the game because of the lack of history and proper management, bubble soccer was off to a difficult start in the USA.
The National Association of Bubble Soccer was founded in early 2014, which intended to solve all of these initial problems. They've put the rule book together, standardized the bubble ball for adults and kids, adopted the traditional rules of football, but with the allowance of full contact. As a result, insurers and affiliates were willing to underwrite contracts.
The first bubble soccer ball championship has been held in 2015 in Las Vegas, called "The Bubble Bowl", where Canadians, Americans and the best players of the Bubble Soccer Association competed for Vince Lumbubble Trophy.
Bubble football today
Nowadays bubble soccer is a fun and popular activity around the globe. It is an entertaining outdoor activity for friends, family, and corporate events for team building. If you want to do some sports and have immense fun at the same time, you cannot miss a chance to try this amazing opportunity. Book bubble football while you spend your time in Budapest.
https://bubble-football-budapest.com/wp-content/uploads/2019/02/bubble-football3.jpg
600
800
Nemes Andras
https://bubble-football-budapest.com/wp-content/uploads/2018/11/logotext8transsmall.png
Nemes Andras
2019-02-19 10:56:57
2019-03-04 10:21:01
Bubble football history