Improving social relationships has long been a concern of people throughout history. For a community, the coherence of the members is essential to achieve the right results. Have you ever considered participating in team building? It's a great way to get your team members closer together for better results, and even make friends! Now we present one of the coolest, out of the ordinary forms of team building, during which you can relax and laugh a lot together! Get to know Bubble Football for team building!
What Is Bubble Football?
Have you ever heard of Bubble Football? Imagine running inside a big, transparent ball on the field with friends and colleagues so that the only rule is that there are no rules! That's right, in this game you can forget about the red and yellow cards, so feel free to crash with your friends! Don't worry about getting hurt, because this is a completely safe sport.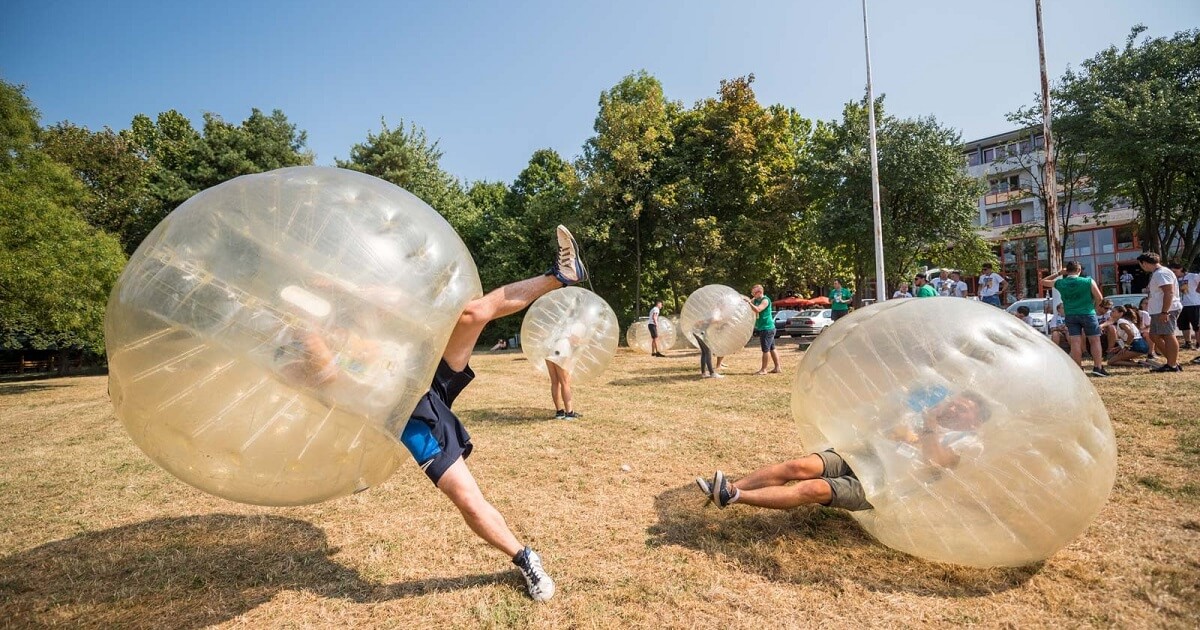 Why We Recommend Bubble Football For Team Building?
Many people sit in pubs for team building, which is of course not a problem, but collective sports have a myriad of benefits. In addition to increasing stamina to reach a common goal and strengthening relationships, it also makes you feel good and has a positive effect on your immune system! Its team-building power is many times greater than any other team-building activities. Bubble Football for team building is therefore a very good idea. Naturally, after the sport, you can enjoy the well-deserved beer that we provide you!
What Do You Need To Know About Bubble Football For Team Building?
It's important to know that Bubble Football is a completely safe sport so you don't have to worry about any injuries! Also, there is no age limit, so anyone can play the game regardless of age and gender. As for the number of participants in the game, all you need to know is that the minimum number of people is 8. Don't worry if there are 'too many of you' as you can take turns, moreover Bubble Football is a sport that is as much fun for spectators as it is for players! In case you can't keep up with the pace like your peers, feel free to take a breather!
You want to get involved in team building, but haven't found the right program yet? Take part in a fantastic experience and choose Bubble Football for team building!
https://bubble-football-budapest.com/wp-content/uploads/2020/04/bubble-football-for-team-building.jpg
630
1200
Nemes Andras
https://bubble-football-budapest.com/wp-content/uploads/2018/11/logotext8transsmall.png
Nemes Andras
2020-04-02 15:37:00
2020-04-02 15:37:00
Bubble Football For Team Building In Budapest